What are some of the best online Christian Radio Stations? Here are our picks!
Nov 8
Best Online Christian Radio Stations

In today's age, there are so many options to choose from regarding online content and entertainment. Even online Christian radio is filled with so many choices. How are you supposed to choose which of the literal thousands of stations to tune in to? Well, that's where we come in. We have narrowed down the choices to just a few radio stations that offer the best quality music, the most encouraging teachings and sermons, and the Christian radio stations that actually focus on who Jesus is and the gospel. So, here are our choices for the best online Christian Radio stations to choose from for you and your family!




1. I Will Gather You Radio

I Will Gather You Radio is a  radio station that was started in 2020 with a vision to bring light and hope to a world in chaos. What makes I Will Gather You Radio unique is its Messianic flavor. I Will Gather You Radio is an online Christian radio station featuring today's top Christian artists and teachers. Still, they also make room for messianic Jewish artists, so their station plays a diverse array of Christian music, which we find amazing. They also have a huge emphasis on Christian teachings and sermons. How can you go wrong with teachers like Dr. Craig Keener, Matthew Vander Els, Dr. Carmen Imes, Tyler Rosenquist, and more? We recommend them as our number one choice. You can download their app on your android or iphone as well. Check our I Will Gather You Radio



2. K - Love

Well, its no wonder KLOVE made a list. Klove is a well-known radio station that offers to encourage Christian music and a few sermons as well. They are always promoting an atmosphere of hope and inspiration that is attractive to younger families. KLOVE puts a focus into joy when it comes to their music, so you will not hear that many worship songs, but their song selection still features today's top Christian artists and producers. Check out KLOVE RADIO 
3. Faith Sound Radio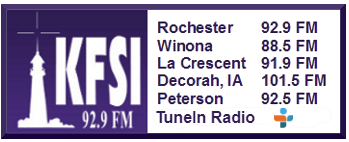 Faith Sound, Inc is a non-profit ministry operating KFSI radio and Faith Christian School. As the area's only full-powered, Christ-focused station KFSI broadcasts music from national recording artists and lessons from syndicated teachers, as well as daily Bible verses,
national news and local weather updates. KFSI has something to offer the whole family. Check out Faith Sound Radio



These are our top three Christian Radio Stations currently streaming online. We hope they are edifying and a blessing to your family as they have been to ours.