Best Maui Luau - Huaka'i Luau - Maui's Newest Luau Opens November 3 at Seascape Restaurant at Maui Ocean Center
Oct 22
Best Maui Luau
My Favorite Hulau in Maui and How We Reached Performance at the Maui Ocean Center
Melody (Mel/Malia) and Kaniala (Kani/Daniel) Masoe have been busy. They have been married for fifteen years. They have created a blended family of six kids during that time. And they have embraced the Hawaiian culture for their lifetimes.
Melody and Kaniala are both graduates of the University of Hawaii at Hilo, which is where they met – probably at Ken's Pancake House (always a part of further education in Hilo). With a love of music and Hawaiian culture, they exchanged vows and moved back to Maui, where Melody's family is from. Kaniala's family is from Hilo and he returns every opportunity he gets.
Their love for music, dance, and the Hawaiian culture led them to develop a hulau that has performed for many years in restaurants, on boats, on lawns, in hotel lobbies, and at family gatherings. Recently Kaniala and Melody visited Seattle, Washington, and performed for a cousin's wedding. Seattle has a large population of local Hawaiians and Mel and Kani were greeted with Northwest Aloha to the max.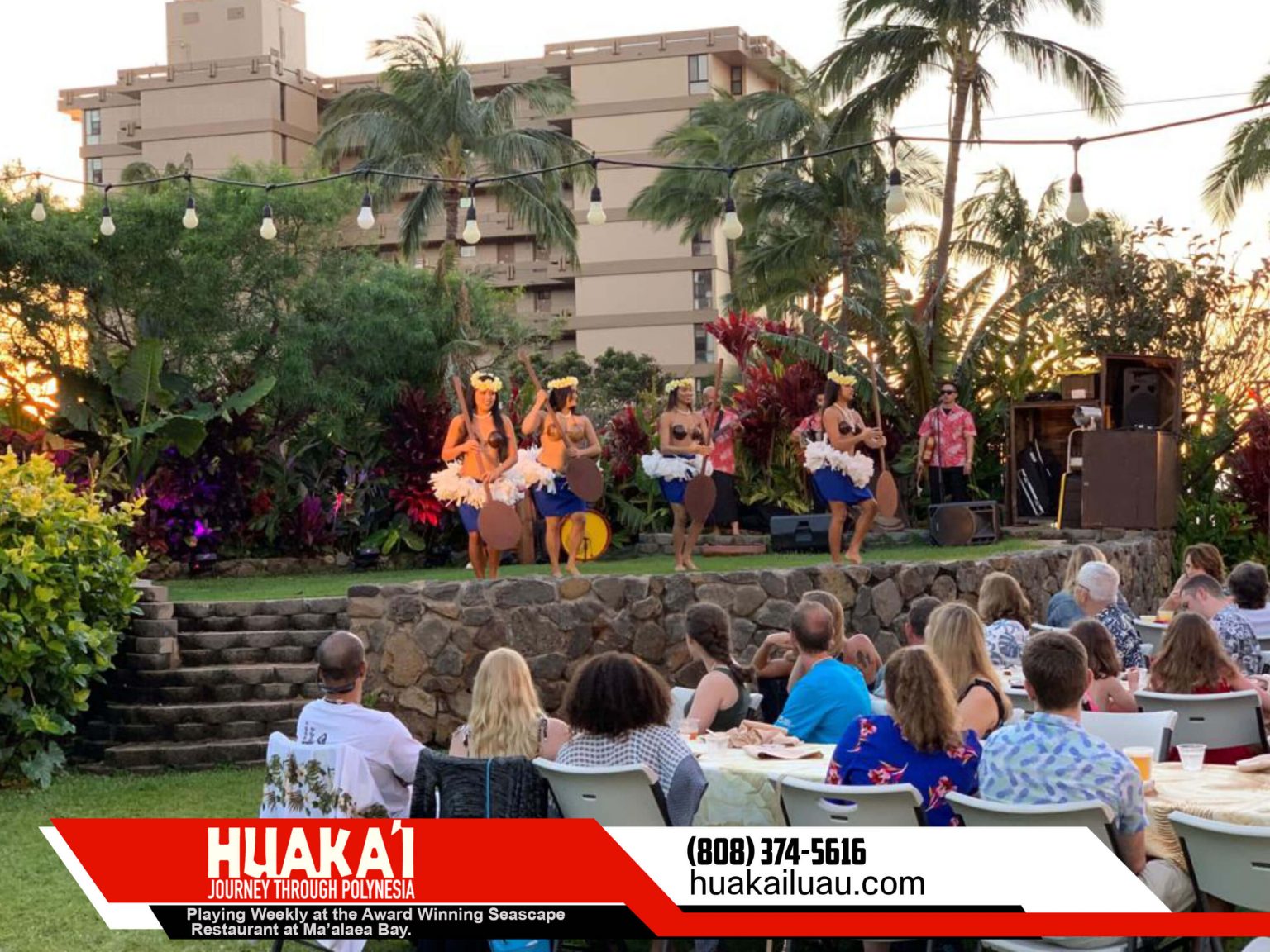 How I met Kani and Melody.
I work with my business partner, the wonderful (and Hawaiian in his heart) Jeff Gitlin. Together, we created a company called Paradise Activity Company. We are outsourced by Diamond  Resorts, Hilton Grand Vacations and Vacation Villages for their activity departments. Not the activity departments that sell helicopter rides across the valley on the other side of Haleakala on the way to Hana, we develop activities for resort guests who stay at the resorts and are looking for some fun and relaxation while enjoying the local culture. We are currently employed at Ka'anapali Beach Club north of Lahaina and at The Point on Poipu on the south shore of Kauai.
Our first activity manager, who had worked for Diamond Resorts, resigned not long after we took over the activity department at Ka'anapali Beach Club. We were sorry to see him go, and we wondered "how do you find someone on Maui who has hospitality, is used to working in a corporate environment and who would never be swayed from staying the course as a 100% believer in keeping the Hawaiian culture at the forefront of their journey?"
A Tough Journey
I decided that the typical routes for employment, Indeed and Craig's List were not the way to go. So, I chose the Coconut Wireless Route and began to think about who I could contact on Maui that would recommend to me someone who would give me hospitality, professional attitude and a straight forward spiritual determination that could never ever be swayed.
I decided to email all the hulaus (hula groups) in Maui. I went to good 'ole Google and did a search. Quickly, I came up with a list of hulaus on the island.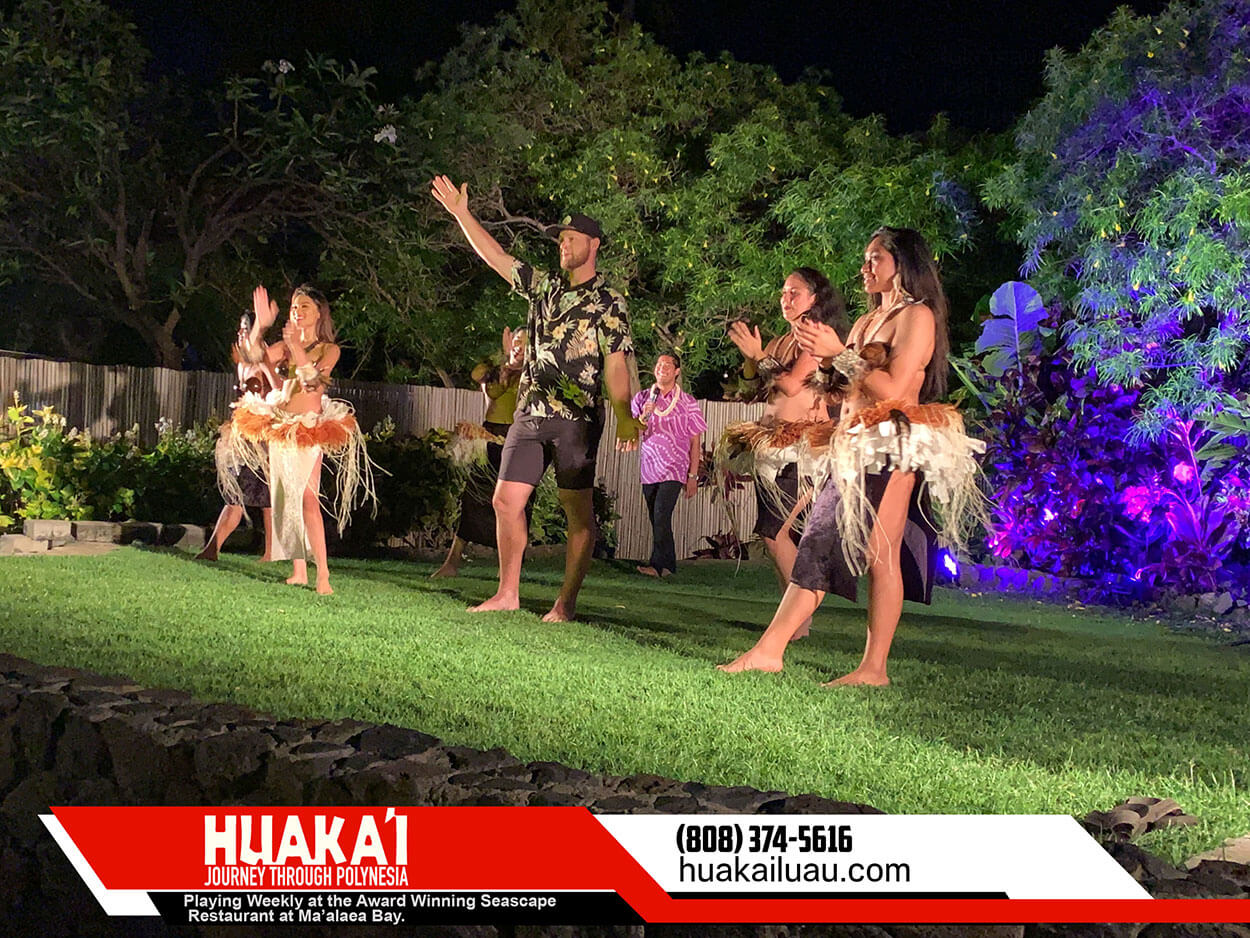 My interpretation of a hulau was a group of local Hawaiians dedicated to carrying on the tradition of hula, song and chants by gathering a group of local participants who had the same goals and who were interested, not in entertainment only, but really dedicated to influencing the continuation of the Hawaiian culture by touching one life at a time.
I began to get replies from kumus (leaders of hulaus). I remember one beautiful letter from a kumu in Hana who regretted that Hana to Ka'anapali was just too far of a drive for his hulau members but he wished me luck. Not a typical reply, I thought. Another couple of emails asked several questions and then one day I got an email from a kumu who told me she had the perfect people for me. People, I thought, I just need one person. But I was grateful and asked her to connect me. Within a couple of hours, I got an email from a person named Melody Masoe who said she wanted me to consider her for the job. I was delighted to get a real person who wanted to work with us, so I called Melody and she was so lovely on the phone. She was relaxed and friendly and had so much aloha that I was dying to meet her.
"When can we meet?", I asked her. She said, Kani and I are off work at 5pm today and we can meet in Kihei. That was a Friday.
ORD to OGG
There was only one problem with this, I was at the Wisconsin Dells in Baraboo, Wisconsin for my niece's wedding on Saturday and I was at least twelve hours away with a drive to the airport and a flight to OGG from ORD. So, I did the wedding, which was so beautiful (their weiner dogs walked down the aisle with them.:)) and then I had my parents take me directly to O'Hare Airport and I flew ORD to OGG and met Mel and Kani in Kehei at a restaurant for an in-person interview within 48 hours of the phone call.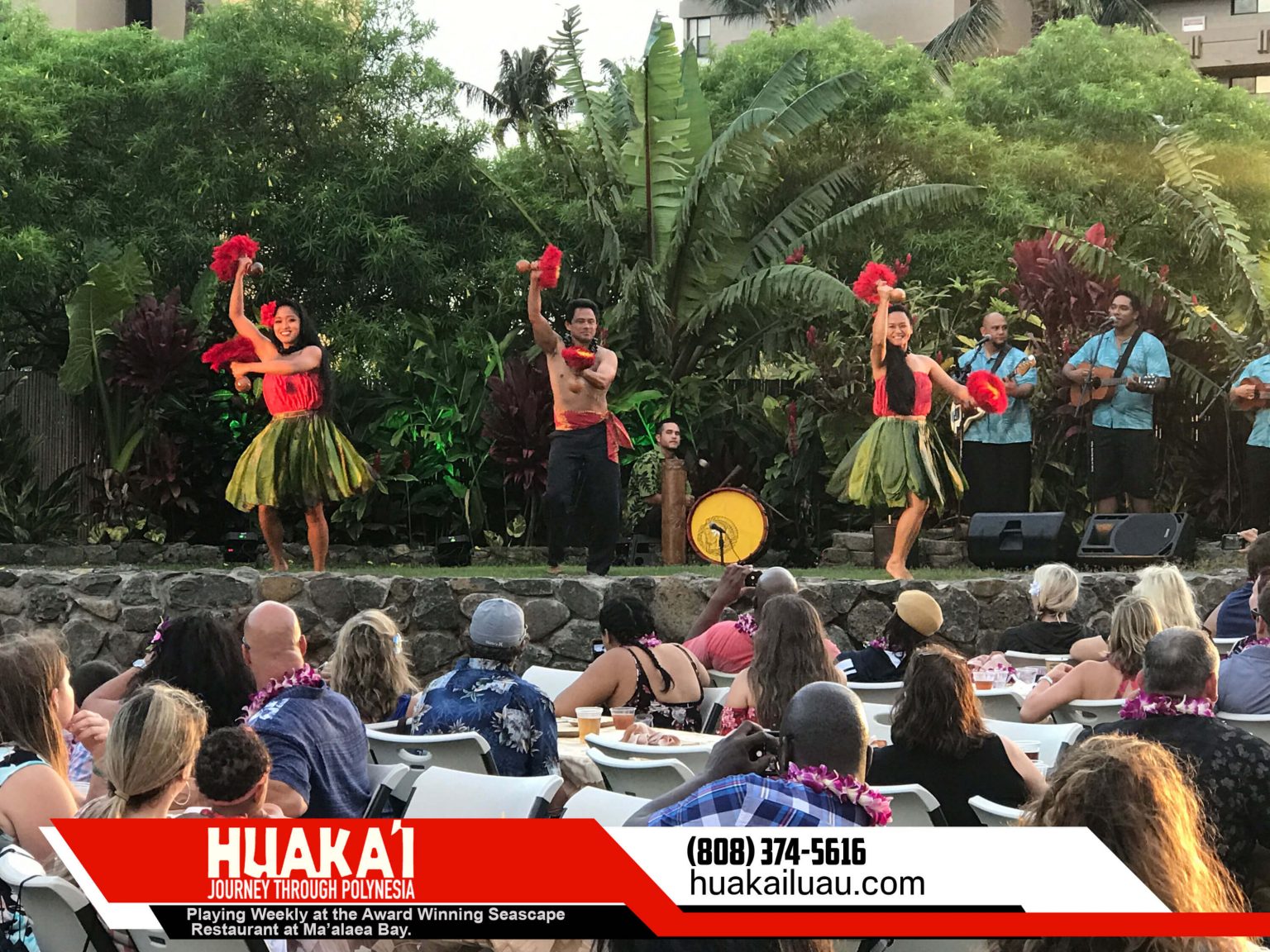 They were wonderful and genuine and ready to begin. I was struck immediately by their sincerity. No matter what I asked, Melody said "yes" and Kani just smiled and agreed. Can you make leis (actually lei is a possessive noun so there is no such words as leis) and Mel smiled and said she did. Question after question was met with a positive return. Happiness was at hand.
Melody quickly became our activity manager at Ka'anapali Beach Club and so began this wonderful relationship with a referral from a kumu – I think the kumu's name was Mapuana even though I often call her Manapua (manapua is a meat stuffed pastry) but Mel keeps me on track with my Hawaiian words and with my pronunciations.
Our activity department at KBCC changed and grew and we started having a really great time with Melody and her staff. We lost people and gained new team members who also said "yes" no matter what the situation.
Then one day, Melody calls me and says that management has asked her to bring in a luau for a performance. She did but she didn't believe in the group that she brought in. She wanted her own group and she told management to call us. "Where will you get a group of dancers?" was my first question to Melody. She replied with confidence, "We already have a hulau."
Hallelujiah Halau
And so it started … Jeff and I began negotiations to bring the luau to the Ka'anapali Beach Club and after a couple of weeks of bargaining and learning what exactly we needed from Melody and Kani, we prepared to bring in our own luau to the Ka'anapali Beach Club.
We opened in July and the luau was named "Huaka'I, Journey to Polynesia (even though I offered to call it Mel's Luau – she passed.)
Jeff took the opportunity to learn how to sell tickets and he did so quickly that within a couple of months we were selling out the once a week luau and that's what we did for the next five years.
Then Covid-19 hit and the luaus on Maui closed. This was a sad and devastating moment for all of us involved. How would we go on with Huaka'i and all the joy it had brought tourists for the last 60 months. But, we put it aside knowing that one day – we would dance and chant and play Hawaiian music together again.
Fast forward eighteen months and Covid-19 restrictions started lifting. KBC was in transition and we were not able to return there. We began to search for a new venue. Our extensive phone calling, emailing and Coconut Wireless odyssey for the perfect venue led us to many places on the island. A gorgeous new site in Paia that was well suited for the show but could not accomodate us because of Covid-19 rules and another in Kihei that was right but the managers did not have the imagination to see this beautiful show in their space. We sought out every open space possible and considered every option from sailboats to the old Sugar Train stop in Lahaina. To our delight, after three months (thank you to Jeff for his persistence and ever-lasting belief in Huaka'i) we found that the Maui Ocean Center was indeed interested in a show that could fill it's space at the Seascape Restaurant.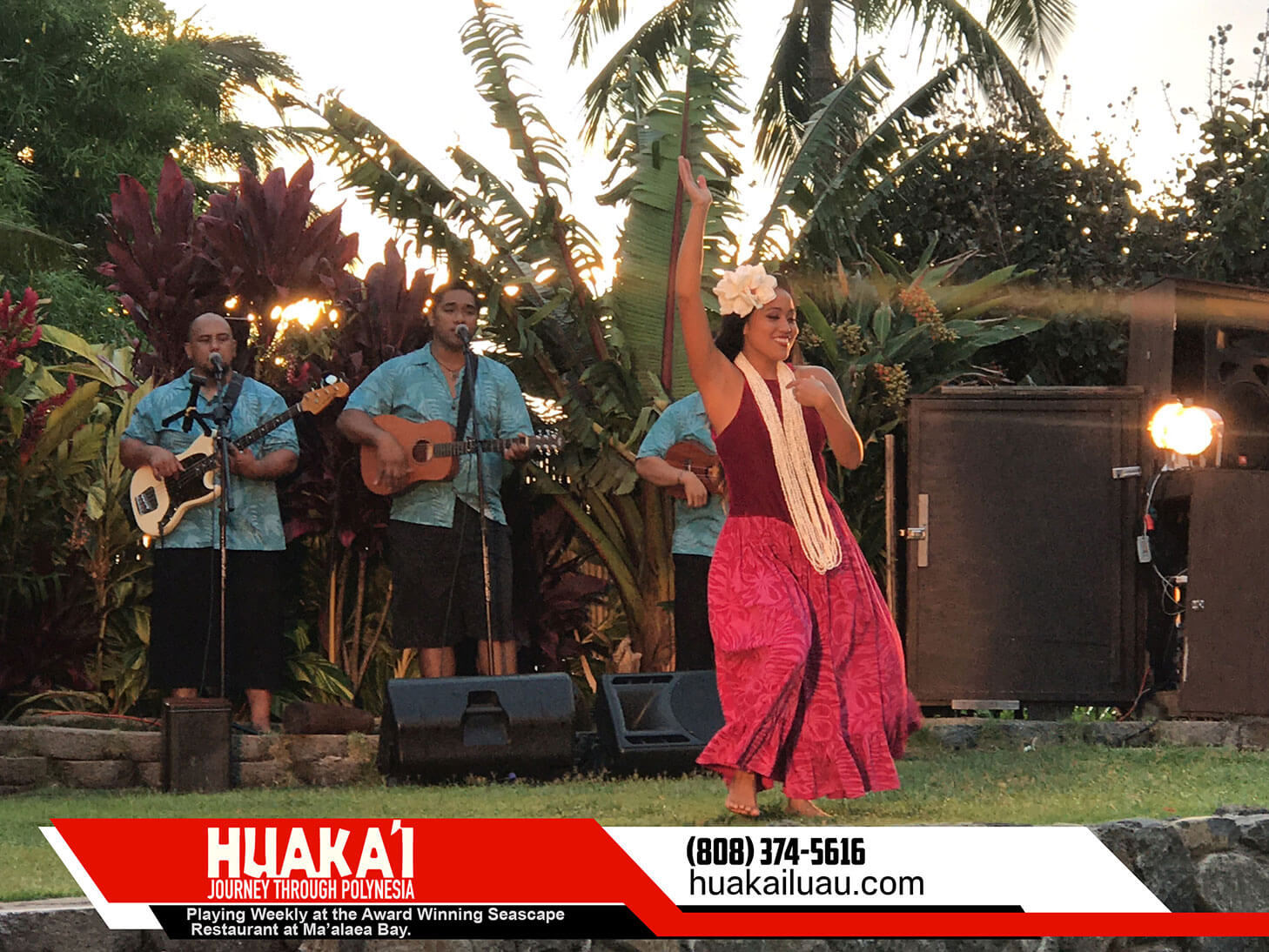 Quick but thorough negotiations led us to the Maui Ocean Center agreement to host "Huaka'i, Journey to Polynesia", at a venue right at the heart of Maui and the only luau in Maui to have a roof over its head but with an ocean view to satisfy any tourist looking for hula and killer sun downs.
Jeff negotiated and we settled on an opening date of November 3, 2021. Melody and Kaniala responded with thanks and lots of aloha for Jeff finding a new home. This luau unites the Huaka'i family of dancers and musicians so they are able to share their culture with mainlanders and locals alike.
Along the way at least three of our musicians have been nominated for Hoku awards, four or more babies have born from the dancers and their partners and Maui looks like it is facing the future with a desire to continue the centuries old tradition of sharing song, dance and chants with all who care to be moved and motivated to reflect on an island that has endured fires, hurricanes, floods and yes, epidemics.
Huakai'i returns to Maui at the Maui Ocean Center in the Seascape Restaurant for two performances a week with Mel and Kani's hulau performing. Full circle? Not yet. There is more, much more to come.